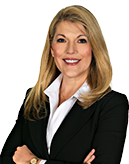 About Julie
Welcome to my website, RanchandCoastalHomes.com. The domain name fits because I specialize in luxury residential real estate in Rancho Santa Fe and along the beautiful North County San Diego coastline – particularly Del Mar, Solana Beach and surrounding communities.

With an MBA in Marketing, a BA in Communications, and years of experience in corporate marketing management, I bring a unique skill set to my real estate career … a skill set that gets results!

Originally from Minnesota, I'm known as "Minnesota Nice and San Diego Savvy." After a successful career in marketing management for medical device companies in Minneapolis/St. Paul and Los Angeles, I married my husband, Greg, and moved to San Diego County. Greg is a cardiologist at UCSD Medical Center and director of the cardiac electrophysiology program. He specializes in treatment of atrial fibrillation and flutter. Greg and I lived in Del Mar for four years before moving to Rancho Santa Fe in 1998. We have two children, and Fairbanks Ranch has been an idyllic place for them to grow up. Our children have enjoyed catching crayfish in the creek that runs through our neighborhood park, fishing and paddle-boating on the private lake, playing tennis with our neighborhood pro, and taking riding lessons at our neighborhood Equestrian Center. And of course, we all appreciated the easy access to Solana Santa Fe School, right through the back gate.

Community service has always been important to me. I've served on the Solana Santa Fe PTO board and the Earl Warren Middle School PTSA board and am a member of the Torrey Pines High School Foundation and the Canyon Crest Academy Foundation. I enjoy serving as hospitality chair for Las Damas de Fairbanks, and writing the Family Focus column for Fairbanks Living. My family and I are members of The Village Community Church in Rancho Santa Fe and I've served as a Deacon there. It's also a pleasure to help raise money for worthy causes including the Children's Lifeline, MHS Family Recovery Center in Oceanside and the Foundation for the Children of the Californias and its pediatric complex, Hospital Infantil de los Californias.

As for my career, I love meeting new people and helping them to achieve their real estate goals. Call me today, to let me know how I can be of assistance to YOU!